Issues Matter in Senate District 11
Saturday, December 26, 2015 11:59
ISSUES MATTER
The upcoming election on January 5th to fill the RI Senate District 11 seat vacated by Dr. Chris Ottiano is an important event. If you are going to vote according to party affiliation, this letter is not for you. If you are interested in voting for the candidate that best supports your beliefs, you should read on.
The citizens in RI Senate District 11 deserve a representative that will listen to the voice of the people. The following list of issues for the candidates in this election are submitted for your consideration. If any of these issues are important to you, please verify the position each candidate has and vote accordingly. Regardless of your personal position, it is most important that you take the time to vote.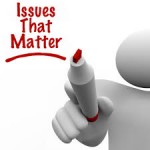 ISSUES
Legalization of recreational marijuana.
Preparation of the State Budget.
Tolls on bridges and Roads.
Illegal immigrants/Sanctuary State.
HUD control of community zoning/RhodeMapRI.
State Sales Tax.
Ethics Commission Oversight.
Healthsource RI.
Term limits.
Line Item veto for the Governor.
These issues are important to every resident of Rhode Island and are likely to be on the State Senate agenda. By copy of this letter, both candidates are invited to express their positions in this paper prior to the election. Party affillation must no longer be our guiding force. Elected representatives that place RI and their districts needs above party or personal choices deserve everyone's vote.
Again, regardless of your opinion on these issues, the most important thing is that you vote.