Ken Mendonça meet and greet
Thursday, September 22, 2022 9:10
Ken Mendonça candidate for RI Senate 11, Portsmouth & Bristol
Good Evening:
I suspect you are being bombarded with emails from candidates, so I will keep this brief.
The primary is over and we are now within 50 days until election day.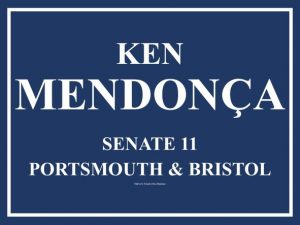 On Saturday, we had a great lineup of the federal, statewide, general assembly and local office candidates speak at the Portsmouth Republican Town Committee picnic. There are photos on my Ken Mendonca for RI Senate 11 Facebook page.
Around September 9th you should have received a mailer to your household from me via the USPS. The mailer is also below.
We have a meet and greet scheduled for this Sunday at 4 at the Blue Anchor. The flyer is below.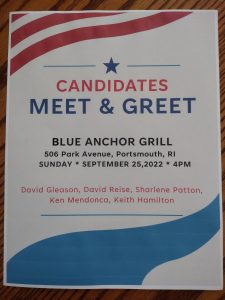 As a reminder, the last day to request a mail ballot is October 18th. On October 19th, early in-person voting begins at your town hall and election day is November 8th.
If you would like to contact me or request a lawn sign, please call me at 401-682-1967 or send an email to ken.mendonca@gmail.com .
Very respectfully,
Ken