Portsmouth RI Town Government out of control spending
Thursday, September 29, 2022 9:26
This letter is addressed to Portsmouth Town Government, with an urgent request to freeze spending and property taxes for the next two fiscal years.
CHALLENGES
Let's look at several areas that are and will impact the lives of Portsmouth taxpayers and make it increasingly more difficult to pay higher property taxes.
TAXATION
– Taxation is consuming a disproportionate part of household income. Taxation, federal, state, or municipality, is a threat to our economic well-being as a country and town.
– Portsmouth property taxes have increased approximately 50% in the past ten years. Portsmouth now has the 7th highest household tax burden in Rhode Island. During the same period inflation averaged less than 1.7%. Portsmouth taxpayers are tapped out…. using household money needed for their families to pay high Portsmouth property taxes.
– Why is the need for Portsmouth Town Governments' money grab? Why was it necessary to tax our citizens beyond their ability to pay? Any and all of the questions suggest a lack of respect for the Portsmouth property taxpayer. Successive town governments, and most certainly, the current administration's out-of-control spending and resultant taxes, threaten our citizen's ability to meet the next set of imminent challenges.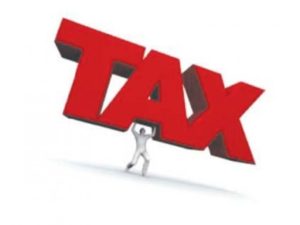 INFLATION
– Inflation has increased 8.5% over last year. A 40-year high. The latest projections indicate a 10.0% increase in inflation later in the year and into 2023. It's estimated that the average household will pay $5,000.00 more in living expenses this year. A few examples may prove helpful:
– heating oil has gone up 85% over last year
– Portsmouth water rates have gone up 100% in the past ten years
– gas at the pump – not sure, as I haven't been to the gas station for an hour
– National Grid just announced that electricity rates this Fall will increase by over 50%
Household purchasing power (what's left of our paycheck after the many taxes are taken out) has had the largest decline (10.9%) in the past year since records began after WWII. Higher prices (8.5%), with (10.9%) less money, is not a match made in Heaven for the citizens of Portsmouth.
– Inflation is the silent killer of the Middle Class. It not only increases one's cost of living but reduces every hard-earned dollar we have in savings.
FEDERAL RESERVE
– The Federal Reserve will become increasingly important in our lives over the next year or two. Their stewardship of monetary policy, how often, how much, and how fast they raise interest rates to calm inflation will have a profound impact on Portsmouth. Most major banks predict rates will be raised 8-10 times in the next year or two.
– home mortgag
e rates are already the highest they've been in 10 years, and rate hikes have just begun.
– auto loans, credit cards, and anything that has a % sign near it will see much higher interest rates.
– most economists agree that we are entering the most aggressive monetary tightening in over 40 years
– our national debt of ($30 Trillion) will influence the behavior of the Federal Reserve and everybody else
RECESSION
–
and if that's not enough, a recession of unknown magnitude which may have caused a reduction of Gross National Product (GDP) of 1.4% in the first quarter of this year, may have already begun.
– most economists and major banks are aligned about a Recession during the 2022-2024 period with all it's trappings of job loss, minus GDP growth, negative wage growth, fear, and business closings.
– with the stock market down, year to date, 13% as measured by the S&P 500 and 21% by the NASDAQ, consumers are beginning to reduce spending. The recession storm clouds are here.
CONCLUSION
– The information above is widely available. My intent was to distill it into a single document for your perusal, discussion, and action.
–
it's past time that Portsmouth Town Government ends their "wish list" of things to spend money on. The Portsmouth taxpayer had to dump that folly a long time ago.
– which begs the question: why should the Portsmouth taxpayer continue to do without for their families to support your spending schemes?
Portsmouth Town Governments' sworn duty is to protect its citizens. The time for you to act has arrived. It's time to freeze spending and property tax increases for the next two fiscal years. Town spending an inordinate property tax increases over the past decade have weakened Portsmouth taxpayers' ability to successfully navigate through hyperinflation and the economic recession that will face us all. It's imperative that you act now. Do the right thing….freeze spending and property tax increases for the next two fiscal years.
Thank you for your service to our community.
Joe Lorenz
Chairman – Portsmouth Republican Town Committee
401 683-2308