Press Release PRESIDENTIAL SIGNING PARTY AND PAGLIARINI RALLY
Tuesday, January 19, 2016 18:35
PRESIDENTIAL SIGNING PARTY AND PAGLIARINI RALLY
All Republican Presidential Candidates require 1000 signatures to be placed on the Rhode Island 2016 Ballot.
To facilitate the collection of signatures, the Portsmouth Republican Town Committee is sponsoring a signing party, in conjunction with a rally for John Pagliarini, state senator representing District 11.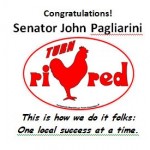 The signing party and rally will take place on, Tuesday, January 26, between 7:00 pm and 9:00 pm,at Green Valley Country Club, on 371 Union St, in Portsmouth.
Sign Republican presidential candidates' nomination papers and meet your new state senator representing District 11, John Pagliarini.
Also meet other local and state elected officials.
Pizza stations and acash bar will be provided.
A $15.00 donation will be collected at the door to cover expenses.
Come to sign, stay for the rally.
All are welcomed.
For more information, contact, Joe Lorenz, PRTC Chair, at (401) 683-2308.